«Republic Auto Spare Parts Trading» was first established in Sharjah, United Arab Emirates in 1996. In 1999 the company first engaged in export of spare auto parts and today we are one of the main exporters of spare auto parts from the UAE. We can send goods to any city in the world and currently we are working with wholesale clients from 27 countries (which are highlighted in yellow on the map):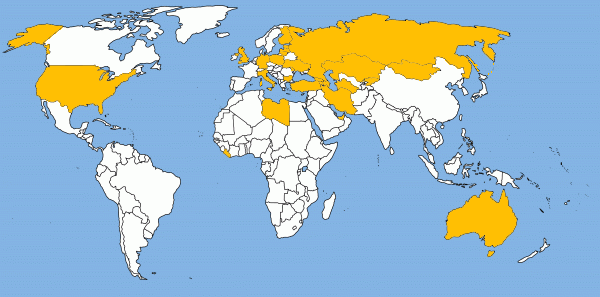 Through the years, the company has increased significantly the assortment of offered products, brands, quantity of deliveries directly from warehouse of factories and manufacturers (which considerably reduces the price for the offered goods and terms of delivery) and of course our quality of service to each client continues to be our top priority.
Clients of our company are both separate buyers and large trading firms as well as car care centers and Internet shops. We have dealer agreements on export deliveries of spare auto parts with the following manufacturers:
Toyota   Honda   Nissan   Mitsubishi   Subaru   Mazda   Lexus   Daihatsu
Isuzu   Land Rover   Range Rover Ford   Suzuki   Yamaha   Kia/Hyundai
Peugeot   Chrysler   Renault   General Motors   Hino   Jaguar   Mercedes-Benz
Taking into consideration the growing requirements of clients, we aim to execute orders fully and quickly; a flexible transport system of cargo delivery to any city worldwide has been developed for that important purpose.